Out of the Shadow of 9/11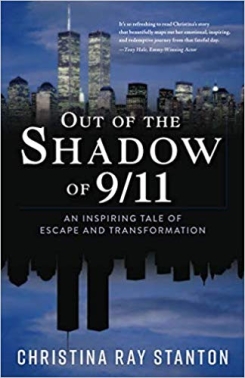 An Inspiring Tale of Escape and Transformation
Published by Loving All Nations Press
Independent Publisher and IBPA Benjamin Franklin Award Winner!

They were average New Yorkers.

But in the aftermath, they became American refugees...

When the planes hit the Twin Towers, Christina Ray Stanton's life changed forever. As the new dawn of terrorism began, the Manhattan resident and her husband fearfully witnessed the impact just six blocks away from Ground Zero. As toxic dust spread into the air, the Stantons boarded a boat off the island and into the unknown.

With a close friend dead and their beloved dog clinging to life, the Stantons' faith in God was tested. But after months away from her home, Christina trusted in a higher purpose to claim a stronger future. This is their story.

Out of the Shadow of 9/11: An Inspiring Tale of Escape and Transformation is a little-told story of the far-reaching collateral damage of September 11. As a longtime local and veteran tour guide, author Christina Ray Stanton shares an intimate journey of the harrowing event. Through her long road to physical, emotional, and spiritual recovery, you'll discover your own inspiration for tough times.

If you like true stories, heart-wrenching journeys, and emotionally raw perspectives, then you'll love Christina Ray Stanton's honest perspective.

Buy Out of the Shadow of 9/11 to find your way back to faith today!

Praise for Out of the Shadow of 9/11
"It's so refreshing to read Christina's story that beautifully maps out her emotional, inspiring, and redemptive journey from that fateful day."
Tony Hale, Emmy Award-Winning Actor

"Stanton writes from her unique perspective as a New Yorker living six blocks from the towers, a NYC tour guide who took tourists to the WTC complex for years, and a refugee in the attacks' aftermath. This is her must-read story--raw, fresh, and honest."
Sarah Anderson, HSN Television Host

"Christina and Brian's story is an example of how God used the Christian community to help New Yorkers heal after the attacks."
Kathy Keller, co-author with Timothy Keller of The Meaning of Marriage: Facing the Complexities of Commitment with the Wisdom of God

"Christina, a New York tour guide, writes about her experiences in a new book called Out Of the Shadow of 9-11: An Inspiring Tale of Escape and Transformation. Christina's is a personal story of how, in a few short minutes, she went from upscale New Yorker to refugee, not knowing if she and her husband would survive the day. What's compelling about the narrative is that she never once blames or blasts the terrorists or Islam. She simply shows how life took on a whole different meaning and urgency. It's a wonderful book."
Lauren Green, Chief Religion Correspondent for Fox News Channel, former anchor of Fox & Friends

"In the midst of all the suffering, some survivors have found a new walk with God. Like Christina and Brian Stanton. In her new book, Out Of the Shadow of 9-11: An Inspiring Tale of Escape and Transformation, Christina tells all about it. The Stantons saw and felt suffering during and after the attacks, and God's not letting that personal experience go to waste. Now, Brian's become Redeemer's chief financial officer, while Christina takes mission teams from Redeemer to worship, pray, service, and minister all over the world."
CBN News, The 700 Club

"Christina and Brian Stanton witnessed the 9/11 attacks up-close, and have written a book about how the church in NYC stepped up to minister to those affected by the tragedy. Theirs is one of those stories that is full of details we don't often hear about."
TBN's Eric Metaxas show, on-air interview with Christina and Brian September 2019

"I'm thankful you reached out to The Gospel Coalition about your article. Wow, what a story. We're grateful and honored that you would allow us to share this remarkable story of God's grace."
Collin Hansen, Editorial Director, The Gospel Coalition

"The memoir category was one of the largest categories in the contest- congrats! I really loved it- the best first-hand account I've read."
Jim Barnes, Editor & Awards Director, Independent Publisher An email congratulating Christina on her Bronze win in the 2020 IP awards

"Out of the Shadow of 9/11 widens the lens on the experiences of that day and depicts the story of Christina's spiritual growth and how the events during the attacks and post-9/11 influenced her relationship with her faith."
Tallahassee Magazine, October 2019 issue

"Many New Yorkers like myself woke up to a beautiful day on 9/11 only to be confronted with the horrors of the towers falling and lives traumatized. Just as circumstances can change, however, lives can be transformed. Read this captivating account of surviving the 9/11 tragedy and moving from victims to victors."
Jenny Chang, Diaconate Director of Redeemer Presbyterian Church, New York City

"Your book arrived in the mail yesterday and I read the whole book last night. I could not put it down. Thanks you for sharing your story and your heart. I love how God worked in both you and Brian and is even still working today. You inspired me with situations in my life now. Please keep writing books!"
Christine Freeman

"I pre-ordered my copy from Amazon. Started reading and couldn't put it down. "A Church and a Job" made me cry AGAIN. Feeling grateful you were able to receive grace (no strings attached) through Redeemer Presbyterian Church diaconate. Your sense of humor kept peeking through the lines. (As did your honesty about your pride, vulnerability and despair.) Several times I wanted to wrap my arms around both of you. When you finally get to Tallahassee, you got the hug from Christina's mom that I had been yearning to give you. I can still picture and smell the yellow-caked dress, Brian's stinky shoes, and poor little Gaby struggling for his life—the desperation, the ubiquitous layers of dust, and those flip flops traipsing around the city. Oh, the stories they could tell. She walked. He slept. Love the way you two alternated in your support for each other. I'm sad to say goodbye to these two survivors (for now)."
Sharon McLean

"The author takes the reader into her experience on the day of the attacks and the days following. Most people have no idea what many New Yorkers went through on 9/11 and how they came out of it. There are many powerful lessons in this book. It shows us how resilient human beings really are. It left me inspired! "
Gina Jordan

"This is a fascinating and deeply personal account of witnessing, escaping, and living through the World Trade Center attack on 9/11, including what it was like for a beloved pet. It's an inspiring story of pressing forward in spite of life changing and lasting devastation. Commendations to the author for sharing so much of herself for readers to experience the trauma that continues to surface nearly two decades status post."
Sandra Vidak
Paperback | 188 pages | $10.00 USD | 978-1733745208 | May 22, 2019