Faith in the Face of COVID-19: A Survivor's Tale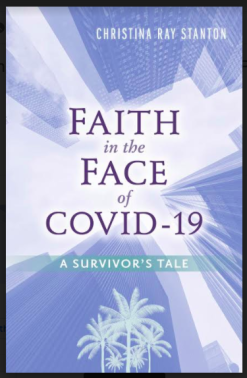 She endured 9/11 . . . would she survive COVID-19?

It was March 2020, and Christina Ray Stanton was hearing rumors about a mysterious virus. The busy New York City tour guide paid little attention. After all, she and her husband had survived 9/11; it would take more than a virus to slow them—or their city—down.

But within days, Stanton saw her beloved Manhattan become a ghost town as fear of the novel coronavirus swept the nation. Seeking safety, she and her husband left the city to stay with family in Florida. They didn't realize that rather than escaping the storm, they were heading into the eye of the hurricane: Stanton was already infected with COVID-19 and would soon be fighting for her life from a hospital bed hundreds of miles from home.

In this unforgettable first-person account, Stanton shares the physical, mental and emotional agony she endured as the virus ravaged her body. Given a 50/50 chance of survival, she didn't give up. She relied on her family, her friends and her faith to sustain her through the painful journey. Along the way, she learned new lessons in gratitude, emerging stronger, more resilient, and with a renewed sense of purpose.

The stirring story of one woman's battle with COVID-19 will inspire anyone whose life has been touched by the coronavirus pandemic, or anyone who has endured hardship. Discover the power of faith, family and friends to help us survive our darkest days.

"Christina has been a victim of two of America's worst 21st century disasters. But I prefer the word "survivor." And she's one very plucky survivor, handling the national traumas that hit her personally with grit and humor. She also prefers to concentrate not on what some might see as the cruel hand of fate, but rather on the loving hand of a God that lifted her up, dusted her off and put her back together twice now. It's left her one very grateful lady who can teach us all a thing or two about how to survive and thrive the toughest of blows." Paul Strand, CBN News Senior Washington Correspondent

"In Faith in the Face of COVID-19, Christina gives an honest account of her relationship with God and how it was strengthened through her battle with the virus. She writes in such a way that I could really feel her pain, fear, and vulnerability during her dark days, which made God's light shine brighter with the hope he promises!"
Pastor Joseph Yu, Redeemer Presbyterian Lincoln Square congregation, NYC

"Stanton's battle with COVID-19 will embolden anyone who is fighting the virus or helping loved ones fight it. Her inspiring experience reveals the power of faith to shepherd us through even the darkest days." Lauren Green, Fox News Correspondent

"If you wonder what it's like to endure COVID-19, this first person account lays out how life can change instantly. This story weaves a harrowing timeline of details as a soon-to-be victim escapes from the epicenter of the outbreak in NYC only to battle the illness in the next epicenter of Florida. This is a page-turner!" Gina Jordan, local NPR Radio Host

"Written with the same inspirational style as her first book, "Out of the Shadow of 9/11," Ms. Stanton gives an up-close and personal account of the early days of the coronavirus pandemic in New York City. When she succumbs to the brutality of Covid-19 herself, she encounters a medical system lacking knowledge, tests, and treatments. During her illness, she calls upon her faith to see her through, and then witnesses God's love from friends far and near. Once you start reading this engaging story of faith and survival, you won't be able to put it down! " TigerMike, Amazon customer review
$10.99 USD